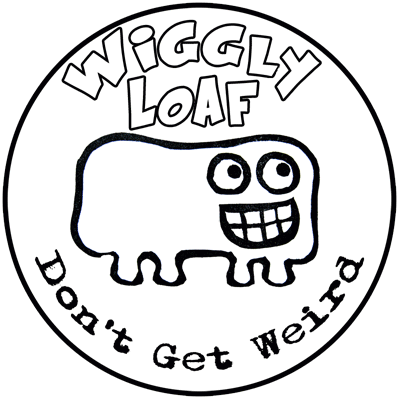 A message from J.E.Moores


Thanks for dropping by. Wiggly Loaf isn't here at home with us any more. Like all children, Wiggly Loaf has grown up. Wiggly is doing very well these days, out and about, going global, sharing many words of peace, love, and hope. The Loaf is on some sort of spiritual journey, and we, as good parents, support it. All Wiggly wants is for YOU to be happy, so share our memes and send us lots and lots of fan art and other Wiggly Loaf sightings to let us know you're out there. Use our hashtag #wigglyloaf on Instagram to add your loaf to the mix. Oh yeah... Don't get weird.
Wiggly Loaf News and Headlines


Wiggly Loaf functions as a visual status indicator within a smart phone app that notifies the home owner via WiFi when heating oil is low. The app allows the user to know when to order fuel without having to go down to check the oil meter in the basement.



The Rattler


Issues 1 and 2 of The Rattler have various Wiggly Loaf comics, Interviews, games, the Ask Katie advice column, and other contributions from Maddy Fink and friends from the Arts and Crafts room. The Rattler is available in PDF format below.